The Finnis family had a connection with Hythe lasting over a hundred and fifty years and are much memorialised in St Leonard's church, and elsewhere. Who were they? Their origins were not very grand, but the family eventually included a VC, a Lord Mayor of London, explorers and a naval hero.
The first member of the Finnis family to live in Hythe was Robert, born in Dover in 1754, one of the four children of another Robert Finnis and his wife Ann, nee Spicer. He was apprenticed to a London upholsterer, and, once a master himself, decided to try his luck in Hythe, setting up shop in the High Street in 1776.
He took the sensible step of insuring all this highly flammable stock with the Sun Fire Insurance Company.
He flourished and four years later, on 29 December 1780 in St Leonard's church, married Elizabeth Quested, the daughter of Stephen Quested, a Riding Officer for HM Customs, and Elizabeth nee Groombridge. They set up home in Prospect House in Hythe and went on to have nine children over the next twenty-two years. Robert took on apprentices himself, leased innings land from the council for grazing sheep and invested in property. As befitted his status, he became a town councillor. In 1794, when the new town hall was built, Robert provided furniture and soft furnishings and was paid £45 14s 8d. That same year, he became Mayor of Hythe.  This was the first of six terms as mayor over the next twenty-six years. The mayorality seems at the time to have been filled by a rota of Robert and Messrs Tritton, Tournay and Shipdem, each taking their turn every four or five years.
Robert died on 9 August 1832, leaving £6949 12s 11d, a tidy sum for a shopkeeper. He ensured that his unmarried daughter, Sarah, was left freehold property and made specific provision for his widowed daughter, Elizabeth, who lived in Ireland. He also died possessed of a fine silver vase, the gift of Stewart Marjoribanks, MP.
Stewart Marjoribanks, MP
Marjoribanks had first became one of Hythe's MPs (the town at this time had two) in 1820. He was a London wine merchant and first visited the town on the eve of the announcement of his candidacy, when he made 'a liberal distribution of ale to the populace'. He was made a freeman of the town the next year. He served the town until 1837 as an increasingly radical Whig. At some point between 1820 and 1832, he made Robert the gift of the vase – we know this because it is mentioned in the will of Robert's widow. Why would a politician give an upholsterer a valuable gift? In the early nineteenth century, the answer was obvious – as thanks for help during an election campaign. A little later it was rumoured in the press that Marjoribanks had rewarded another supporter, Thomas Garrett, by securing a plum job for his son. On that occasion, the recipient was subsequently charged with bribing voters. Did Robert Finnis take part in such activities? Possibly. It would not have been unusual for the time. The most we can take from the story is that Robert Finnis was a Whig voter.
His wife Elizabeth survived him by nearly six years. She left two freehold houses to her son George, the son who had stayed in Hythe; and her clothes, linen and half her plate to her unmarried daughter Sarah, except 'the silver vase presented by Stewart Marjoribanks MP to my deceased husband.' Sarah also got the furniture of her choice. Elizabeth left money – nineteen guineas each – for mourning clothes to her daughters, sister and daughters-in-law. They would have no excuse not to look the part of the grieving (but prosperous) family.
The sister, Ann, born in 1773, was younger than Elizabeth and, in the event, predeceased her by a year. There was a younger brother, too, Thomas, who served in the Royal Marines, retired with the rank of Captain and in his later years lived with his nephew George Finnis in Hythe. Both were buried, when the time came, with Elizabeth in the Finnis family vault. There are not many vaults at the church – the Mackeson's have one, as do the Deedes family and the Shipdems, all wealthy and influential people (locally, at least).
The eldest child of Robert and Elizabeth, John Groombridge Finnis died at the age of four, when, left alone for a few minutes, he ventured too near the fireplace. His clothes caught fire and he died a few hours later of his burns. The second son, Robert, met his end as a young man in Canada. His has own memorial plaque in St Leonard's church, which describes his naval career.
He had joined the Royal Navy in 1797 at the age of fourteen, as a midshipman and served on HMS Beaulieu, part of the North Sea Fleet. In 1801, the ship was in a squadron of frigates keeping watch on the French and Spanish fleets at anchor in Brest. England was then at war with both countries. During the night of 21 July, nine of the squadron's boats, one commanded by Robert, succeeded under heavy fire in capturing and setting lose one of the key French vessels, La Chevrette. In recognition of his leadership, Robert was promoted Lieutenant six weeks later.
'The Cutting-out of La Chevrette' (Bristol Museums Galleries & Archives)
In May 1813, he was promoted captain and given command of HMS Charlotte, a 17-gun sloop which got embroiled in a short-lived conflict with America, the result of the latter's inability to trade with Europe as a result of the war there. In the first battle of the struggle, on 10 September at Lake Erie, Robert was killed outright in the first broadside. His commanding officer, Robert Heriot Barclay wrote: 'Too soon, alas, was I deprived of the services of the noble and intrepid Captain Finnis, who soon after the commencement of the action fell, and him my greatest support.' The Charlotte  was captured by the Americans, who won the day.
Robert's funeral: he was buried together with five other officers on 11 September 1813 at South Bass Island, near Put-in-Bay, Lake Erie
The next child was a daughter, Elizabeth, baptised in St Leonard's church on 17 May 1785. On 3 December 1803, aged just eighteen, she married Henry Blosse Lynch, a lieutenant in the 27th Foot based at Shorncliffe. He took her to his home, Partry House in Ballinrobe, County Mayo, where she gave birth to eleven sons – of whom, more later. Henry died in 1823 and Elizabeth in 1845.
Partry House, Co. Mayo, set in an estate of 1500 acres
Another daughter followed, Sarah Maria, born in 1791. She never married, but was well-provided for by her parents and in her later days divided her time between Hythe and the homes of her sister Jane and her brother Thomas,  both of whom lived in London. She died in Hythe on 8 November 1880, leaving an estate of less than £7,000 to her brother Thomas Quested Finnis, her only surviving sibling.
George was the next Finnis child, born in 1793. He decided to follow his father's example of solid hard work and civic duty. He went into partnership with John Ronalds, an auctioneer and his son Edward, an upholsterer. They traded not only in those two areas, but as estate agents, insurance agents, ironmongers and (bizarrely) bell-hangers. George was also a trustee of St Bartholomew's alms-house and  JP both for Hythe and for Kent. He was mayor in 1828 and 1833 and looked set to follow his father's record, but the upcoming young James Watts dominated council life for many years and George did not serve again as Mayor until 1849.
On 11 August 1830, he had married Anne Castle, a widow, the daughter of William Elphicke of Tenterden. She already had a son, John Elphicke Castle and she and George went on to have two daughters. One, Jane Maria, died aged eight and is recorded on the same memorial as her father. The other was Elizabeth. Like his father, he supported Stewart Marjoribanks in the 1830 General Election. However, in 1837, it was reported that he now supported the Conservative Party. He died on 3 May 1850 at his sister Jane's house in Regents's Park. His wife died on 4 July 1856 in Hackney.
The next child born to Robert & Elizabeth Finnis was another girl, Jane, baptised on 17 May 1796. She married Thomas Pilcher a farmer of Cheriton in St Leonard's church in June 1818.  Although he continued living in Cheriton, he was a Hythe jurat (councillor), probably because he had married the daughter of a freeman.  There were no children of the marriage and when Thomas died in 1844, he left all his land to his brother Jesse, presumably to keep it in the family. However, Jane was handsomely provided for, with a lump sum of £6000 and a life annuity of £400.
Jane left Cheriton and either bought or leased a house in London, 13 York Terrace in Marylebone, near Regent's Park.  £6000 could go a very long way indeed in the 1840s.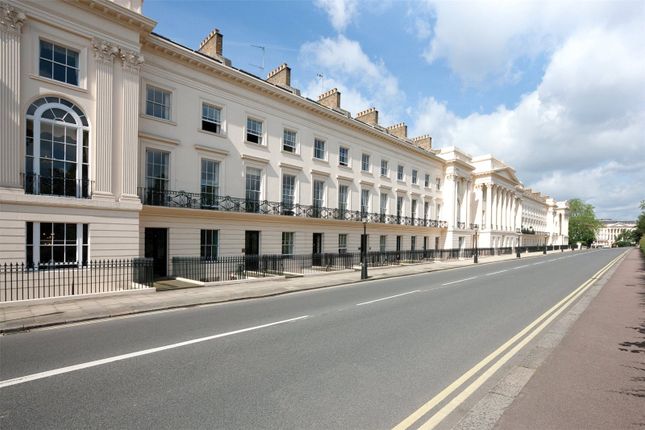 York Terrace, London NW1
Jane died on a visit to Hythe on 9 February 1871.
The memorial to the Finnis family in St Leonard's Church
In a vault near the chancel/are interred the remains of/Robert Finnis Esq./one of the jurats/of this town and port/who died the 9th of August 1832/in the 79th year of his age
And of Elizabeth his wife/who died the 13th of May 1839/in the 77th year of her age
Also those of Ann Quested/the sister of the above named/Elizabeth Finnis/who died 29th May 1838/aged 65 years
Also of Capt. Thomas Quested R.M./who died 17th March 1845/aged 68 years
George Finnis Esq/Mayor of this town died 3rd May 1850/aged 56 years
Jane Maria, daughter of the above/died 3rd April 1844,/ aged 8 years
Also of Sarah Maria, daughter of the/above named Robert Finnis/died 10th November 1880 /aged 89 years
To the memory of/Lieut. Stephen Finnis/of the Bengal Army/who died at Dinapoor in the East Indies/the 1st of August 1819, aged 21
Also to his brother Colonel John Finnis/11th Reg. Bengal Army, aged 53, killed by the mutineer/ of the 20th reg. N.I at Meerut May 10th 
To be continued…