Thomas Head Raddall, senior and…                                                 Thomas Head Raddall, junior
Thomas Head Raddall senior was born in Hampshire on 6 December 1876, the only son of another Thomas, a draper's assistant, and his wife Eleanor. He had four sisters.
His father seems to have had a nervous breakdown, attributed to alcohol abuse. The family left Hampshire and moved to West Ham. Young Thomas worked as a cashier in an office near St Paul's Cathedral, where he ate his lunchtime sandwich each day until when he was just fourteen or fifteen, he enlisted in the Royal Marines as a drummer boy and was sent to the Royal Marines depot at Deal. He stayed there until just before his eighteenth birthday and during this time he met Ellen Marion Gifford (Nellie) of nearby Eastry, who was to become his wife.
The Royal Marines depot at Deal, now private housing
He then enlisted in the Royal Marine Light Infantry, Portsmouth Division on 18 October 1892 and saw service in the Far East from 1896 to 1900, cruising between Hong Kong, Weihaiwei in the north-east of China and Kobe and Nagasaki in Japan. Back in the UK, he married his Nellie on 23 September 1900 at Eastry. Their first child, a daughter, was born in Deal ten months later.
Thomas had been promoted and now applied for a post at the quaintly-named School of Musketry in Hythe. In fact, it now trained men in the use of modern rifles and machine guns. Thomas was himself a first-class marksman and he got the job and the rank of Quartermaster Sergeant Instructor. It was in the married quarters of the School that Nellie gave birth to a son, named Thomas Head Raddall for his father. The birth took place on Friday 13 November 1903, but Nellie, obviously a superstitious woman, always told her son he was born on 14 November. He was baptised at St Leonard's church.
The School of Musketry in Hythe, since demolished
Young Thomas later remembered Hythe as a 'sleepy watering place'. He learned to walk in the School's Barrack square and attended the National School in the town, where in the library he became entranced by the stories of Fenimore Cooper with his Indians and Leatherstockings. Encouraged by his music-loving father, he went to piano lessons with 'a little, ape-faced man' who whacked his fingers with an ivory baton when he made a mistake.
Thomas senior, meanwhile, was realising that the School of Musketry, Hythe, the British army and Great Britain itself had little more to offer him and his family. The high spot of his time in the town had been his membership of the British rifle team at the London Olympics of 1908. He was full of ideas and wanted more opportunity for his children. When he was thirty-five, in 1913, he applied for a post in Canada as a firearms instructor for the militia and was successful. In May  that year, the little family – there was now another daughter – sailed for Halifax, Nova Scotia. Hythe was very civilised compared to the small wooden house without electricity in which they now lived.
War broke out in Europe the next year. Thomas senior enlisted on 22 September 1914. and got a commission in the Winnipeg Rifles. He was sent to France in 1915 but managed to stop in Hythe on the way to catch up with old friends. He was shot in the arm at Ypres and was the first wounded soldier to return to Nova Scotia but was soon back in France and in 1916 was promoted Captain. Wounded in 1917, he fought at Passchendaele, now as a major; by August 1918, he was a Lieutenant-Colonel.
He was killed on 9 August 1918 by machine-gun fire, in a wheat field while leading his men in an attempt to capture Hatchet Wood near Amiens. During his war, he had been mentioned in dispatches three times and awarded the Distinguished Service Order. He was buried in what was to become the Manitoba Cemetery, Caix and commemorated on the war memorial in Hythe.
Thomas's name on the Hythe War Memorial
Nellie and her children meanwhile had narrowly escaped death in Nova Scotia when a French ship full of explosives blew up in Halifax harbour, destroying large parts of the town. Young Thomas's school was temporarily the town mortuary for some of the two thousand people killed.
A street in Halifax after the explosion
Thomas senior's death left his widow in worsened financial circumstances. Her only income was his army pension and since the explosion, everything necessary for life had rocketed in price. Thomas and his older sister had to leave school and get jobs. Thomas failed to get his first choice of work as a trainee reporter and took a training course to enable him to work as a wireless officer on merchant ships. He passed the course and started his career as a 'sparks' on the ss War Karma in 1919.
His mother, meanwhile, had gone back to Kent with her daughters, where she hoped her limited income would go further. They settled at Kingsdown, near Dover, but things did not work out. Many of her old friends had moved on, often the men had been killed in the war, and Kingsdown was so quiet that Ellen feared that the marriage and employment prospects for her daughters were limited. In 1921 they went back to Canada. The girls took typing and shorthand classes and got jobs in the city of Halifax.
Kingsdown in the 19th century
At nineteen, Thomas decided to leave the sea, went to business school and took a job as a book-keeper in a paper mill in Liverpool (Nova Scotia). While working there, he met and in 1927 married Edith Freeman. The next year their first child was stillborn.
In 1931, Thomas started writing. His first efforts, commissioned by his employer, were a series of small books on the history of Nova Scotia. These included advertising for the paper industry. Encouraged by their reception, he started writing short stories, which were also well received and gave him enough extra income to buy his house in 1935, by which time he had a small son and daughter.
At the outbreak of war, he tried to join up, but was told his wireless operating skills were out-dated, though he was commissioned as a reservist. He had now published his first novel, His Majesty's Yankees and in 1943 signed a contract with Doubleday Doran for a second, Roger Sudden.
Thereafter, there was no looking back. He quit his job and became a full-time writer at forty. He was prolific and best known for his meticulously researched historical fiction. He received Governor General's Awards for three of his books, The Pied Piper of Dipper Creek (1943), Halifax, Warden of the North (1948) and The Path of Destiny (1957) and was made an Officer of the Order of Canada in 1971.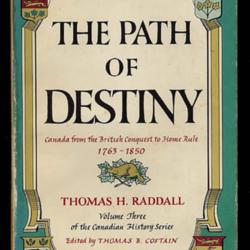 The three prize-winning books by Thomas Head Raddall
In 1991 he endowed the he Thomas Raddall Atlantic Fiction Award to provide 'the gift of time and peace of mind' so essential to the creation of new work and which he himself had lacked in his early writing days. His family continues to support the award.
Thomas died on 1 April 1994. He was so esteemed in Canada that an exact replica of his study, furnished with his possessions, is on view at the Thomas Raddall Research Centre and his correspondence is housed at the Dalhousie University Archives.