Three graves in St Leonard's churchyard mark three generations of the Friend family.
In/affectionate remembrance/of/John Friend/born 26th August 1804/died 15th October 1881
Also/in loving memory of/Susannah/wife of the above/born 14th April 1807/died14th December 1888
In/ loving memory/of/Louisa Jane Friend/born 31st March 1849/died 20th July 1890
In loving remembrance of/William Thomas/second son of/John T. And Anne E. Friend/who died of consumption/the 2nd of May 1879/in the 19th year of his age
Also/John Thomas Friend/father of the above/died August 26th 1884/aged 54 years
In the midst of life we are in death
John Friend senior, the first of his family to come to Hythe, was born in Mersham, the third of the nine children of his father, who was in the service of the Knatchbull family. The Knatchbull baronets had lived (and still do) at the Mersham Hatch estate since the time of Henry VIII. The estate then covered about eight hundred acres, and the baronet during John's youth, Sir Edward, was certainly in need of servants as he produced nineteen children with his three wives.
He was a country squire of the old school, who became MP for Canterbury and opposed any legislation which had even the whiff of liberalism, including the Corn Laws and Catholic Emancipation. He tore up his much-admired park, with its avenues of trees and homes for aged retainers, and had their dwellings transplanted to another spot where they could not spoil his view.
Mersham Hatch, the seat of the Knatchbull family
Whether John Friend did not want to work for this man, or whether there was no place for him, he did not follow in his father's footsteps and became instead a shoemaker. He moved to Hythe and married there Susannah Divers. She was the daughter of Thomas and Susannah Divers of Ashford, and was baptised there on 17 May 1807. She and John were married in St Leonards church, Hythe, on 2 August 1828. They had eight children together over the next twenty-one years, though one, Elizabeth, died as a child.
In 1830, John was appointed the Parish Constable for the town of Hythe, an unpaid position which he combined with running his shoemaking business in the High Street. Policing was at that time a very parochial affair. Parish constables, often unwilling volunteers and just as often barely literate, confined their activities to their own towns. Then in 1829 Robert Peel established the Metropolitan Police and in 1835 an Act of Parliament required all English boroughs to set up a police force. The response in Kent, as elsewhere, was unenthusiastic, because the force had to be funded by ratepayers who saw in it no advantage over the existing arrangements. By 1837, only just over half of Kent towns had taken action, and in some places, such as Sandwich and Tenderden, the 'force' was a solitary constable. In Hythe, little changed. John Friend was re-named Chief Constable, and had a couple of part-time constables under him. He carried on making shoes, though now he had a salary of £5 a year. He was also required to collect coal duties, market dues, money due for sale of beach (ie shingle for use as ballast) and to deliver summonses on behalf of the Corporation (3).
In 1844 the Town Council offered to make it worth his while to give up his business and become a full-time policeman, to which he agreed. By then he had five part-time constables under him (1). He still had no uniform, but in 1853 the town council finally bought him 'a policemen's coat'(2).  His house also functioned as the Police Station, which given that he had eight children cannot have made life easy for Susannah, his wife. The borough police forces continued to function until 1888, co-existing with the Kent County force after 1857, but by this time John had retired. He finally took his pension at the age of seventy in 1874.
When not policing or shoemaking, John's great passion was bell-ringing. According to his obituary
'He was well known throughout the county as a famous campanologist… He showed extraordinary aptitude in mastering the most intricate methods in the science and his achievements are recorded on tablets in the towers of the churches at Ashford, Hythe, Folkestone and many others in the county.'
As well as regular ringing, he enjoyed the challenge of ringing peals, which involved thousands of changes. He took part in at least fifteen peals at St Leonard's and elsewhere, twelve of them as conductor – the one who calls the changes to the other ringers. He was the conductor for the record-breaking peal at Hythe with 13,440 changes on 4 May 1846. To quote the Kentish Gazette it was
…the greatest number of changes ever rung in the county by one set of men. It took seven hours and fifty-five minutes… although towards the end exhaustion was evidently manifest by a little irregularity.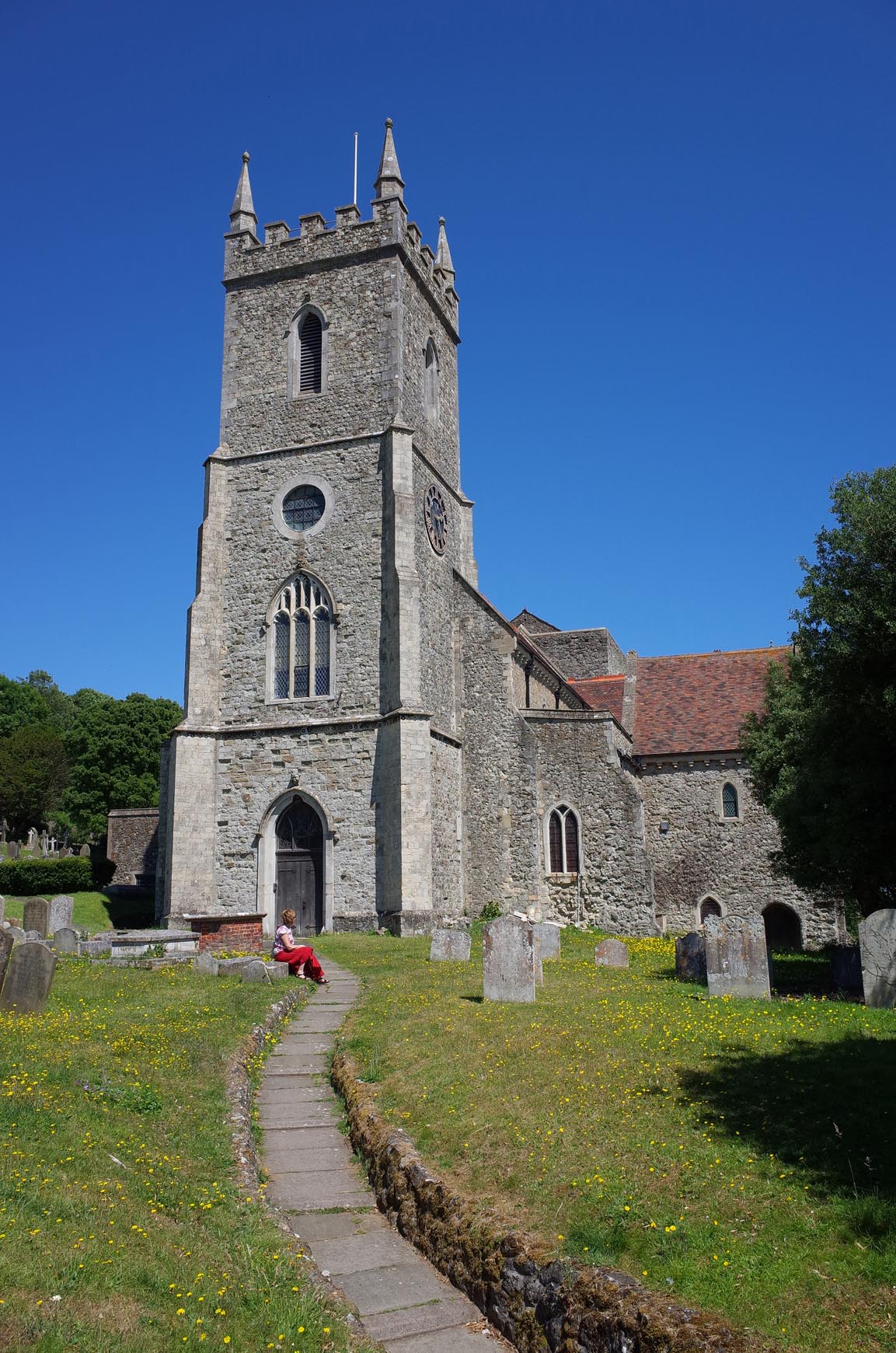 The bell tower of St Leonard's Church, Hythe
In 1860, John decided that one of the tenor bells at St Leonard's should be replaced and two extra treble bells added to the existing six. He raised through public subscription only enough to pay for the two new bells, which he ordered from one George Stockham at a cost of £95. The bells were delivered and hung the next year, and a special peal was to be rung on 8 July followed by a celebratory dinner for all involved.
It was a disaster. The peal was scheduled to last from noon until six in the evening, but it soon became only too apparent that the new bells were discordant, and the terrible noise reportedly drove half the inhabitants of the town mad. The vicar, who lived across the road from the church, found the noise so unendurable that he could not finish his midday meal, and gave orders that the bells should be silenced.
John tried to make the best of a bad situation. At the official dinner that night, he praised the new bells, out of courtesy to Stockham, he later said. Stockham sent workmen to Hythe who for a fortnight chipped at the bells to try to get them to harmonise with the others, which was not wholly successful. The people who had subscribed were furious with John, and he refused to pay Stockham. Stockham sued him and won. The end result was that John was declared bankrupt in 1863.
Nothing stopped his bell-ringing, however, and he continued to ring until he could no longer get up the church tower stairs. In 1878 he and Susannah celebrated their Golden Wedding anniversary in some style. The mayor of Hythe granted them the use of the town hall, and after some speeches, the whole party went up to the church where
'… a select band performed some excellent scientific touches of a bob-major, treble bob-major, grandsire triples and grandsire caters.'
At the 'substantial spread' which followed back at the town hall, the company were entertained by hand bell ringers. What Susannah thought of all this is not recorded.
Hythe Town Hall, the scene of John and Susannah Friend's Golden Wedding celebrations.
When John died, in 1881, his fellow-ringers acted as pall bearers at his funeral. His widow Susannah followed him to the grave seven years later and their youngest child, Louisa, seven months after that.
The eldest child of John and Susannah, John Thomas Friend, also became a bell-ringer, though he never achieved his father's status. He was baptised in St Leonard's church on 30 October 1830. By the time he was twenty-two, he was working in a shop in Tonbridge Wells owned by Henry Sawyer, grocer, tea dealer and cheesemonger. It was a large establishment in the High Street, employing several other assistants. If John had any ambitions to work in the retail trade, he soon dropped them, and by 1858 he had become a gardener and was living in Dover High Street. However, in 1861 he was employed as 'High Bailiff in the County Court.' The County Court was not located in a single town: there appear to have been several locations across Kent and there may have been a court room in Folkestone, as Melville's 1858 Directory lists one William Larkins of Guildhall Street in Folkestone holding the post. of High Bailiff.  How John came to be appointed is a mystery, though it may have to do with the fact that his father's next-door neighbour was the preceding High Bailiff. It was secure, salaried employment and must have been a godsend in uncertain times. Perhaps the salary was not enough, however, as his obituary records that he held 'other posts'.
John married Annie Elizabeth Day in Dover, on 23 February 1858, and they moved back to Hythe, presumably when John was appointed as Bailiff. They had at least four children: John, born in 1858, William in 1860, Alice in 1863 and Charles in 1868. Annie Elizabeth died in April 1875 and is buried in St Leonard's churchyard. Not long afterwards, John took up market gardening, though he still seems to have held onto his court post. In 1881, after young William's death, only Alice remained with him at home. Charles was boarding at a school in Prospect Road, Hythe.
John's death was sudden: he had been involved in arranging some sports to take place to celebrate  the turning of the first sod of the Elham Valley Railway when he was seized with paralysis at the door of George Wilks, Hythe's town clerk. He was carried home, but succumbed during the night.
The eight bells of St Leonard's lasted until 1928, when they were recast, and in 1992 two others were added. They can still be heard across the town every Sunday morning.
I am indebted to the late Jack Barker of Hythe for the research into John Friend's bell-ringing career
1. Kent Archives Hy/AM/2/1
2. Kent Archives Hy/AM/2/2
3. Kent Archives Hy/AM/2/1